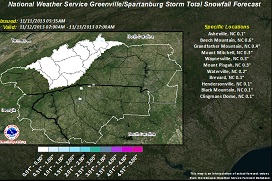 First and foremost, a big THANK YOU to all our military veterans, today and every day, for sacrificing freedom in your own life so that we may all have it in ours.
Weather-wise, we're in for a beautiful day. Sunny skies, light wind, and temperatures reaching the low 60s for everyone. A perfectly crisp fall day. Tonight clear skies allow temperatures to drop into the middle 30s to low 40s, so bundle up Tuesday morning.
By Tuesday afternoon the big changes begin. Clouds increase and scattered rain showers start, mountains seeing wet weather shortly after lunchtime with it eventually moving into the Upstate by mid-afternoon. The cold front will push through late Tuesday evening, quickly dropping temperatures into the low 30s, and changing some of the rain showers to snow showers. Upstate, we're not expecting much of an impact. The period of snow showers will be brief, with no real accumulation expected. A dusting is possible in the highest elevations of Greenville, Pickens, and Oconee counties, but it won't amount to much. Temperatures Upstate reach the low 30s by Wednesday morning. In Western NC, we could see some slicker conditions. Tuesday afternoon the mountains start with rain showers, but as the front pushes through we could see scattered snow showers for a few hours into the night. Lows drop into the middle 20s, so areas wet from rain will freeze and others seeing scattered snow will end up slick by Wednesday morning. Accumulations around an inch or less should be limited to high elevations, generally along the NC/TN border, but a dusting will be possible for much of Western NC, so take care to give yourself extra time on the road, plus time to warm up/scrape off your car!
By midday Wednesday, sunshine returns with cool temperatures in the 40s for everyone, followed by a bitterly cold night Wednesday, in the low to mid-20s for everyone.