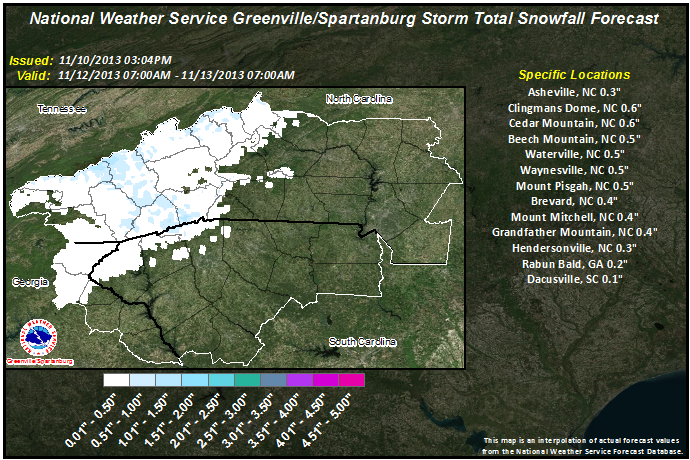 Once again today, the computer forecast models agree that a fast moving weather system will bring some light precipitation to the Upstate and Western North Carolina Tuesday into Tuesday night.
In the Upstate, we will see some light rain showers developing late Tuesday into Tuesday night. As colder air filters in, we could see those rain showers change over to some light snow showers briefly before the precipitation moves out late Tuesday night/early Wednesday morning before daybreak. Some grassy areas and elevated surfaces could see a brief minor dusting, but roads and sidewalks should not be impacted. They will remain too warm to allow accumulation. So this "event" should be more of a novelty than an impactful weather situation.
In Western North Carolina, rain showers should change to snow showers (and/or a wintry mix) late Tuesday into Tuesday night. Higher elevations could see some minor accumulation by the time the moisture dries up on Wednesday morning. In fact, anywhere from a dusting to a couple of inches are possible in the higher elevations of the mountains. I have attached a weather map that shows areas of Western North Carolina that have the better chances for some light accumulations. (Image from the National Weather Service)
As we get closer to Tuesday, the models will give us a better handle on the situation and we will be able to fine tune our forecast. So keep checking with the FOX Carolina Weather Team for updated forecasts.
FOX Carolina Meteorologist Mark Johnson