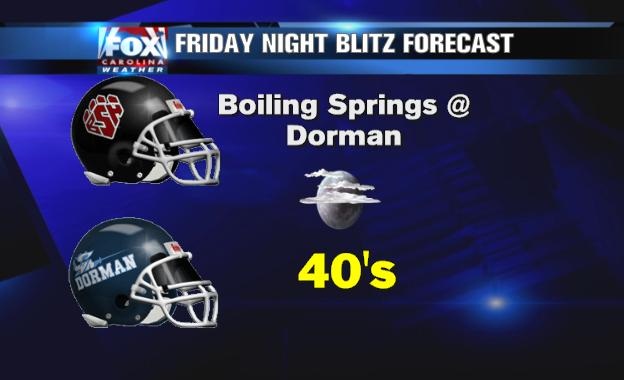 Expect sunny skies today, with a few passing clouds in Western NC. Highs remain cooler than average in the 50s area-wide. A breeze from the north-northwest keeps us feeling chilly as well. Whether you're going to opening night with the Road Warriors, or to a high school football game, you'll need to dress the same! Temperatures will drop into the 40s as the sun sets, with end-of-game temperatures in the lower 40s. Late overnight, from midnight until 10am Saturday there is a freeze warning in effect for the Upstate, NE Georgia, and Polk county in Western NC as temperatures for everyone will drop into the upper 20s and low 30s before sunrise.
Saturday brings a wealth of sunshine again, with temperatures slowly rising into the middle 50s to near 60°. Overnight lows should move back up into the mid-to-upper 30s.
Sunday once again will be a sunny day, with milder temperatures making their way into the upper 60s Upstate, and low 60s in Western NC. Lows move into the upper 30s to mid-40s. The warming trend for highs and overnight lows continues into the work week, eventually getting us back near 70 during the day, and into the 40s overnight.