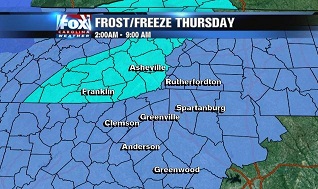 It's a beautiful start to a Wednesday, with temperatures in the 40s and low 50s. Plenty of sunshine will get temperatures into the mid-50s and mid-60s, but windy conditions will keep us feeling cool.

If you've been waiting for the cold weather to arrive, tonight is your night. A Frost Advisory is in effect for all of the Upstate, NE Georgia, as well as Polk, Rutherford, and McDowell counties in Western NC. This advisory goes from 2am-9am Thursday morning. The rest of Western NC is under a Freeze Warning for the same time frame, as temperatures are expected to drop to or slightly below the freezing mark tonight for a solid couple of hours.
Waking up Thursday will be a cold one, but plenty of sunshine once again will quickly get us into the mid-50s and mid-60s. A few clouds overnight into Friday morning could produce an isolated mountain shower, but early Friday morning as we get into the low 30s once again, areas bordering Tennessee could even see a few snow showers. Not expecting any real accumulation, though a light dusting is possible for elevations above 4000ft.
Cool temperatures and sunshine stick around through the weekend, with overnight lows in the 30s for everyone.