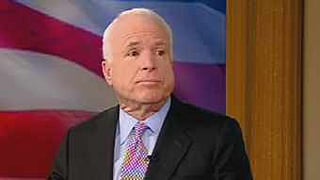 BOSTON (AP) -
U.S. Sen. John McCain is in Massachusetts campaigning for fellow Republican and Navy veteran Gabriel Gomez, a candidate in the state's special U.S. Senate election.

The Arizona Republican told a rally in Boston's Dorchester neighborhood that Gomez represents the "the next generation of leadership in this country."

McCain said Gomez would be a bipartisan voice in the Senate on issues like gun control and immigration.

Gomez says his opponent, Democratic Congressman Edward Markey, has a weak homeland security record and twice voted against resolutions honoring the victims of the Sept. 11 attacks.

Markey says he voted for eight separate resolutions honoring the victims. He said the two he opposed went beyond simply honoring the victims, including one that tied the memory of the victims to the war in Iraq.

The election is June 25.
Copyright 2013 Associated Press. All rights reserved.