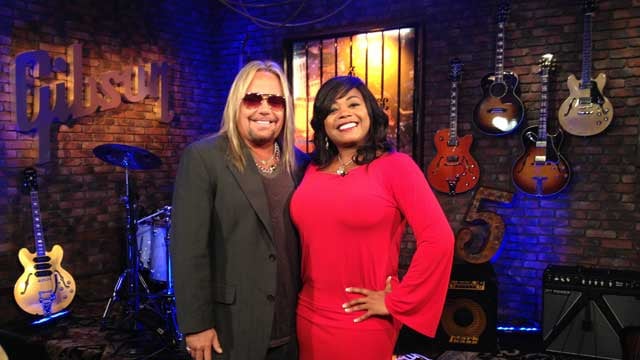 Mötley Crüe lead singer Vince Neil, with FOX5's Monica Jackson, announced the 12-show residency inside the Gibson Showroom at FOX5 Studios. (Matt Guillermo/FOX5)
LAS VEGAS (FOX5) -
Mötley Crüe is back!
The band that took over the '80s and '90s with some of the most memorable rock songs in memory is slated for 12 shows at The Joint at Hard Rock Hotel beginning on Sept. 18.
Tickets for the 12-show residency go on sale Friday at 10 a.m.
The band that boasts iconic members Vince Neil, Mick Mars, Nikki Sixx and Tommy Lee previously set up shop at The Joint for a multi-show engagement in 2012.
"We are proud to have pioneered the Las Vegas rock residency last year and can't wait to come back this year to take it over the top with a brand new show that will be unlike anything you've ever seen Mötley Crüe do before," said Crüe member Nikki Sixx.
Since the Crüe residency, The Joint boasted multi-show residencies from Guns 'N Roses and Def Leppard, among other acts.
Tickets, which start at $49.50, will be available at the Hard Rock Hotel Box Office, all Ticketmaster locations, Ticketmaster.com or at 1-800-745-3000.
The dates are as follows, with each show beginning at 9 p.m.:
Wednesday, Sept. 18;
Friday, Sept. 20;
Saturday, Sept. 21;
Sunday, Sept. 22;
Wednesday, Sept. 25;
Friday, Sept. 27;
Saturday, Sept. 28;
Sunday, Sept. 29;
Wednesday, Oct. 2;
Friday, Oct. 4;
Saturday, Oct. 5;
Sunday, Oct. 6.
Copyright 2013 KVVU (KVVU Broadcasting Corporation). All rights reserved.