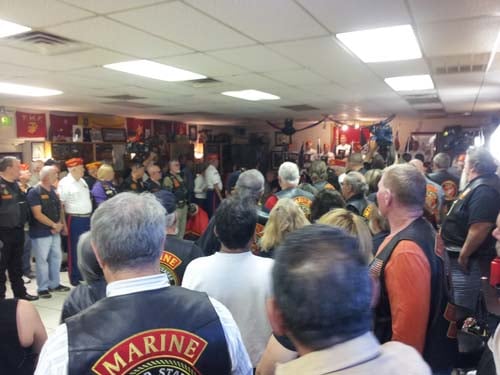 Marines and veterans pay tribute at the Leatherneck Club on Friday night. (Matt DeLucia/FOX5)
LAS VEGAS (FOX5) -
Seven Marines killed in a training accident in Hawthorne earlier this week were remembered on Friday. Fellow Marines and military veterans gathered for an emotional tribute.
None of the Marines who gathered had any direct connection to the men who lost their lives, but they said they are family nonetheless, and they are mourning their own.
"We leave nobody behind. We take care of our own," said Sgt. Malcolm Blue, a retired Marine.
At the Leatherneck Club on Arville Street at Spring Mountain Road, it was standing room only. The Marines lost their lives on Monday night in a mortar explosion. Eight others were injured.
"I'm sad. It hurts. It hurts every time I read about a Marine or any member of our armed forces that's been killed," said Dave Jochman, a chaplain.
The Marines were based at Camp Lejeune in North Carolina, but on Friday the salute came from Las Vegas.
The deceased ranged in age from 19 to 26. The 60-millimeter mortar round that was being used in the exercise has since been pulled as the investigation into the explosion continues.
Copyright 2013 KVVU (KVVU Broadcasting Corporation). All rights reserved.