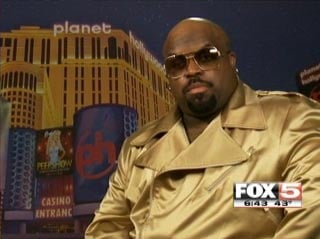 Cee-Lo Green is slated to debut "Loberace" at Planet Hollywood on Feb. 27, 2013. (FOX5 FILE)
LAS VEGAS (FOX5) -
Thursday's fatal wreck and resulting shut down of Las Vegas Boulevard forced the postponement of entertainer Cee-Lo Green's entrance ceremony at Planet Hollywood.
Caesars Entertainment announced the postponement for the crooner's official arrival to mark the debut of his "Cee-Lo Green is Loberace" show.
The company did not say when the event would be rescheduled.
Cee-Lo's entrance was expected to take place at the steps leading to the casino property on the Las Vegas Strip, Caesars said.
Las Vegas Metro police closed the intersection at Flamingo Road and Las Vegas Boulevard Thursday after a shooting and multi-vehicle crash at about 4:30 a.m. Three people died as a result of the incident.
Stay tuned to MORE for the latest entertainment news.
Copyright 2013 KVVU (KVVU Broadcasting Corporation). All rights reserved.