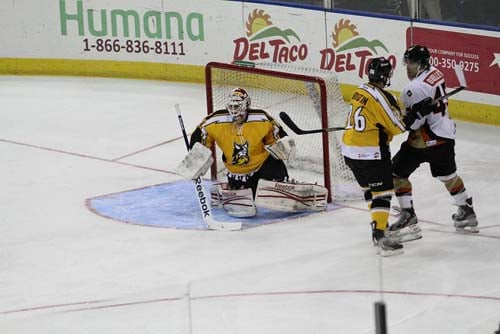 Jody O'Neill in net with the Stockton Thunder. (Courtesy of the Stockton Thunder)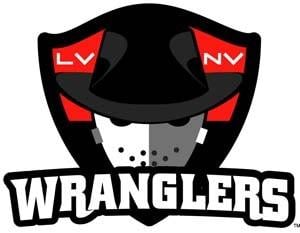 LAS VEGAS (FOX5) -
The Las Vegas Wranglers have added to their goaltending depth with the addition of a college standout.
The team on Friday announced Jody O'Neill has been acquired from the Stockton Thunder in exchange for future considerations.
O'Neill, 24, appeared in net once with the Thunder this season, making ten saves against the San Francisco Bulls. The 6'1", 180-pound rookie made his ECHL debut last season with Stockton.
Prior to that, the netminder spent four years at Dartmouth College, amassing a 26-35-6 record with a 2.99 goals-against average and a .910 save percentage.
The Nepean, Ontario native was named both the Eastern Collegiate Athletic Conference and Ivy League's Rookie of the Year.
The Wranglers will take on the Alaska Aces on Friday night at 7:05 p.m. The game will be followed by a concert by alt-country singer/songwriter Todd Snider.
On Saturday, the team will again face Alaska at Orleans Arena during "Heroes Night." Iron Man will make an appearance on the concourse and attendees will be treated to a pre-game contest between Las Vegas police and firefighter hockey teams.
For more information, visit www.lasvegaswranglers.com.
Copyright 2013 KVVU (KVVU Broadcasting Corporation). All rights reserved.