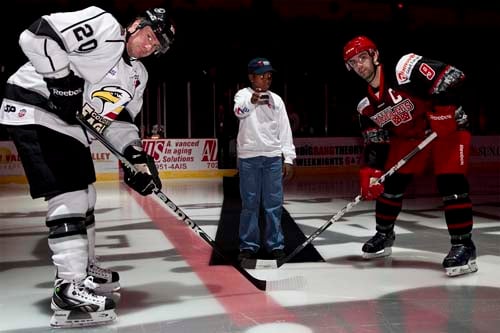 Former UMC patient Keiontae Williams drops the puck. (Photo by John Bosworth)
LAS VEGAS (FOX5) -
The Las Vegas Wranglers raised a total of $8,030 for Children's Hospital of Nevada at UMC by way of a special jersey auction and ticket proceeds from a recent game.
On Friday, Jan. 19, the players suited up in jerseys adorned with a Children's Hospital of Nevada patch which were auctioned following the game. Fans snagged the game-worn jerseys for $6,180 and ticket sales added $1,850.
"We are very grateful to the Wranglers for this extremely generous donation," said Children's Hospital of Nevada's Lisa Pacheco. "From the team's visit to Children's Hospital of Nevada last week, to a great night on the ice, we can feel the heartwarming support for our pediatric patients."
The Wranglers will head east this weekend for a trio of road games before returning to Orleans Area for a four-game series with the Bakersfield Condors beginning on Wednesday, Jan. 30.
For more information, visit www.lasvegaswranglers.com.
Copyright 2013 KVVU (KVVU Broadcasting Corporation). All rights reserved.