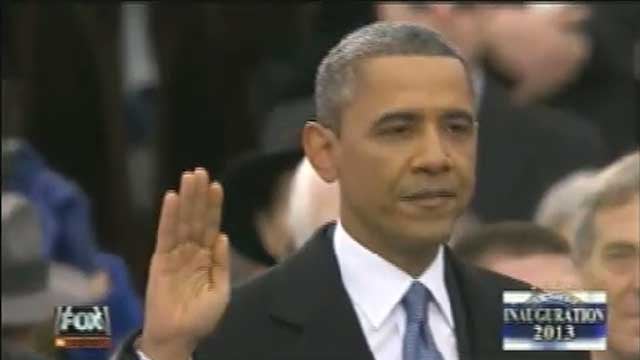 How do you provide the appropriate musical accompaniment to a traditional event such as the Inauguration?
The White House released a playlist prepared by President Obama for the special day. The playlist is available on music application Spotify.
You can download the application at Spotify.com and access the playlist at http://open.spotify.com/user/barackobama/playlist/3DYdRhM1VrOkNNPPaYnkLc.
Here is what the playlist contains:

"Signed, Sealed, Delivered (I'm Yours)" Stevie Wonder
"I Was Here" Beyoncé
"Mi Gente" Marc Anthony
"Carry On" Fun
"New Day" Alicia Keys
"Mud On The Tires" Brad Paisley
"Turn Up The Love" Far East Movement, Cover Drive
"Edge of Glory" Glee Cast
"Your Smiling Face" James Taylor
"Ordinary People" John Legend
"Firework" Katy Perry
"Breakaway" Kelly Clarkson
"My Mic featuring Biz Markie" Nick Cannon
"Something Special" Usher
"Higher and Higher" Walt Whitman, The Soul Children of Chicago
"Get Ready" Smokey Robinson
"Future" Mindless Behavior