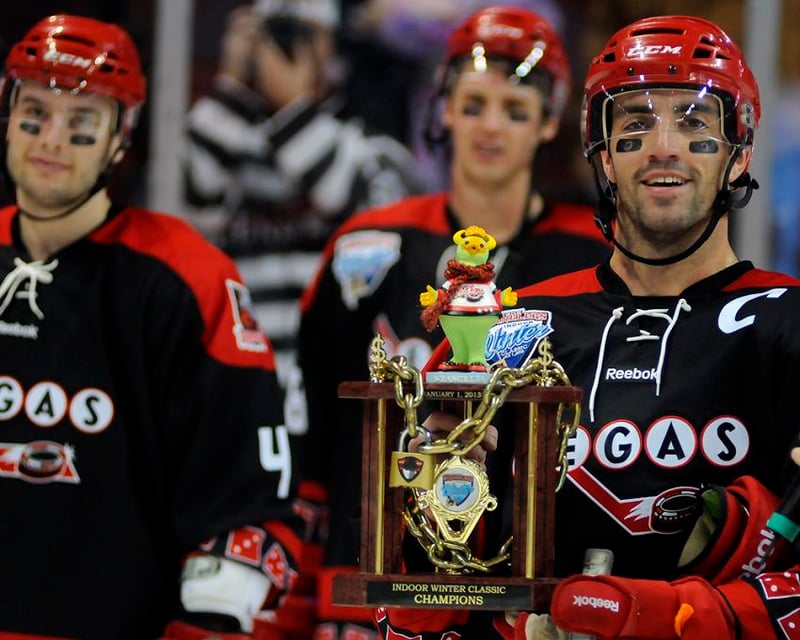 Wranglers defenseman Mike Madill with the Indoor Winter Classic trophy. (Las Vegas Wranglers)
LAS VEGAS (FOX5) -
The snow flurries fell and a flurry of third period goals lifted the Las Vegas Wranglers over the Ontario Reign.
The team on Tuesday claimed the trophy in its inaugural Indoor Winter Classic with a final score of 3-2. The game, a jab at the cancelled NHL Winter Classic, featured indoor "snow" and an open skate following the game.
Wranglers forward Andrew Sarauer put the Wranglers on the board in the first period. Center Eric Lampe scored a power play goal in the third and left wing Josh Lunden got the game-winner with 3:54 left in the game.
The teams will meet again on Wednesday night at Orleans Arena. The team will host the Utah Grizzles on Saturday, Jan. 5 and Sunday, Jan. 6 with a special appearance by Dora the Explorer at both games. Fans can skate with the team after the game on Sunday at no additional cost.
For more information, visit www.lasvegaswranglers.com.
Copyright 2013 KVVU (KVVU Broadcasting Corporation). All rights reserved.