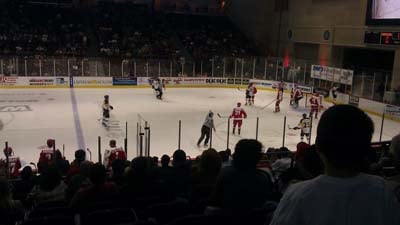 The Wranglers defeat the Stockton Thunder 3-2 Friday night. (Craig Huber/FOX5)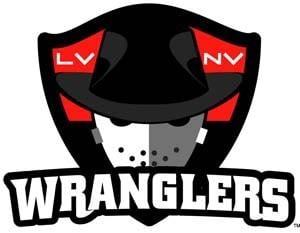 LAS VEGAS (FOX5) -
While the NHL lockout drags on and on, Las Vegas' own ECHL hockey team, the Wranglers, picked up a split during its first home weekend series.
A crowd exceeding 5,000 was on hand for Friday night's 3-2 overtime victory over the visiting Stockton Thunder. The Wranglers got off to a slow start which included several missed passes and a goal that got waived off. The Thunder struck first with a goal midway through the period by defenseman Teigan Zahn.
The Wranglers started to catch fire in the second but neither team managed a goal. Wranglers center Judd Blackwater put Las Vegas on the board roughly two minutes into the third but the Thunder answered back three minutes later.
The game went into overtime and center Scott Campbell brought the team a sudden death win just 30 seconds in following a remarkable breakaway.
The Wranglers fell 5-4 to the Thunder Saturday night in a game in which they tied three times.
The Wranglers will next face the Bakersfield Condors in California on Friday, Oct. 26 before returning home the next night to take on the Colorado Eagles.
During Saturday night's game, the team will host a Halloween "Treat or Treat." Kids under 12 in costume will get in for free.
For tickets and more information, visit www.lasvegaswranglers.com.
Copyright 2012 KVVU (KVVU Broadcasting Corporation). All rights reserved.