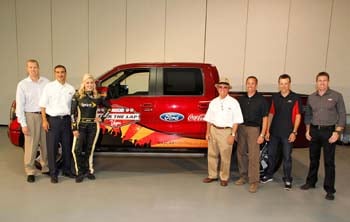 The 2013 Ford F-150 FX4 is unveiled in Dearborn, MI. (Courtesy of Getty Images for NASCAR)
LAS VEGAS (FOX5) -
Now in its fourth consecutive year in Las Vegas, tickets are now available for 2012 NASCAR After The Lap. Described as the ultimate fan event, this year PT at PH Live at Planet Hollywood will host.
Set for November 29 at 5 p.m., the event will be hosted by ESPN pit reporter Jamie Little. Fans will get the opportunity to meet with the top-12 Chase for the NASCAR Sprint Cup Driver.
"NASCAR After The Lap is one of the crown jewels of NASCAR Sprint Cup Series Champion's Week," said Norris Scott, vice president of partnership marketing for NASCAR. "Our top drivers take their helmets off and celebrate the season with our fans, resulting in a wildly entertaining evening and a unique platform for two of our long-standing partners, Ford and Coca-Cola."
Also announced Friday was the NASCAR After the Lap sweepstakes. One fan will win a grand prize package that includes a 2013 Ford F-150 FX4 truck, a round-trip for two to Las Vegas, two nights at Planet Hollywood and two VIP tickets to NASCAR After The Lap.
For tickets and to enter the sweepstakes, visit www.NASCARafterthelap.com. Tickets are $20 each with proceeds benefiting The NASCAR Foundation, a nonprofit that raises funds for children's charities and other causes.
Copyright 2012 KVVU (KVVU Broadcasting Corporation). All rights reserved.