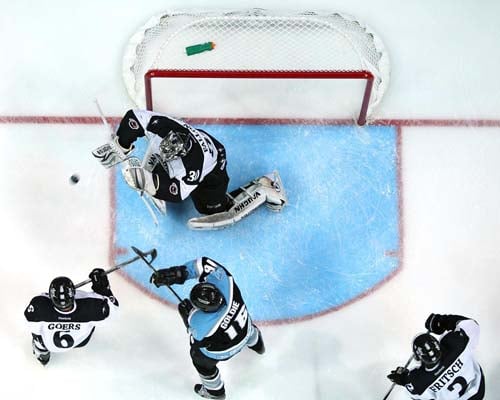 Bird's-eye view of Fallon's shot-blocking prowess. Photo by Jerry Gallegos.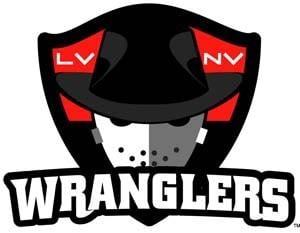 LAS VEGAS (FOX5) -
Less than a month out from opening night, the Las Vegas Wranglers have again secured the services of No. 1 goaltender Joe Fallon.
At 6'3", 190 pounds, Fallon's frame takes up quite a bit of net. He boasted a 2.39 goals-against average and .912 save percentage last season.
The Minnesota native earned ECHL Goaltender of the Week honors last year for a 12-4-0 streak. Playing for the Houston Aeros, the netminder earned an AHL Player of the Week nod in March.
"Fallon is a huge reason why we had success last year," said Wranglers Head Coach and General Manager Ryan Mougenel. "He's an extremely committed athlete who, in my opinion, deserves to be at a higher level. Not only did he help us make it to the playoffs, but he played a part in Houston's advancement as well, and he should be proud of that. I'm excited to have him lead us."
Fallon, 27, was a sixth-round pick by the NHL's Chicago Blackhawks back in 2005 and played four years at the University of Vermont.
The puck will drop at Orleans Arena on Friday, Oct. 19 when the Wranglers take on the Stockton Thunder. For more information, visit www.lasvegaswranglers.com.
Copyright 2012 KVVU (KVVU Broadcasting Corporation). All rights reserved.