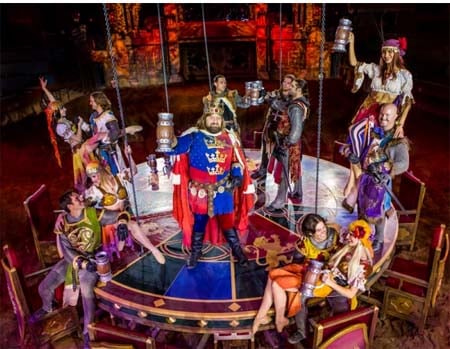 Erik Kabik / ErikKabik.com
LAS VEGAS (FOX5) -
The Emperor may not have new clothes, but the knights, maidens and Merlin the wizard do. And these threads are anything but invisible.
The Tournament of Kings at Excalibur Hotel & Casino has debuted new costumes and set pieces incorporating brighter colors and more elaborate designs.
Designed by the world famous Frederick Pinaud, the upgrade includes an enhanced castle façade which features rotating doors, stairs and towers.
A lavish red and gold throne has been added from which King Arthur watches his knights fight valiantly for their respective countries.
The massive round table has been repainted red, green and blue and adorned with gold lions and Celtic designs.
For ticket information, visit www.excalibur.com or call (702)-597-7600.
Copyright 2012 KVVU (KVVU Broadcasting Corporation). All rights reserved.