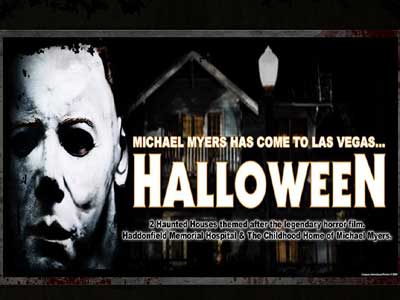 Image from Fright Dome website
LAS VEGAS (FOX5) -
The iconic horror film "Halloween" and its star slasher Michael Myers will be main attractions when Fright Dome opens Oct. 1 at Circus Circus on the Las Vegas Strip.
Fright Dome creators said two of the theme park's five haunted houses will recreate scenes from "Halloween," the 1978 classic starring actress Jamie Lee Curtis.
Guests can relive the movie's most terrifying moments on their tour of the infamous Myers House and Haddonfield Memorial Hospital.
The first "Halloween" film spawned seven sequels and a pair of remakes directed by Rob Zombie. Michael Myers has since appeared in numerous toy lines, Halloween-themed comic books, and continues to be an annual fixture on costume racks.
Fright Dome's creators planned to hire 300 people to work and perform at the park this year. Auditions will be held Saturday and Sunday from 4-7 p.m. and will continue on weekends through Sept. 10.
Fright Dome is also partnering with the recently-formed sCare (Suspense Community Allocating Relief and Empowerment) Foundation, an organization aimed at helping poverty-stricken and homeless youth.
The non-profit was created by "Halloween" franchise producer Malek Akkad.
Tickets to Fright Dome go on sale Sept. 7 and can be purchased on the park's website.
Copyright 2011 FOX5. All rights reserved.