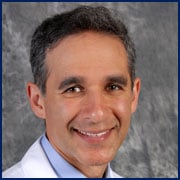 An esteemed residency and fellowship graduate of UCLA, Dr. Said Daneshmand is a sub-specialty board certified reproductive endocrinologist and partner in the city's leading fertility practice, The Fertility Center of Las Vegas.

With special interest in ovarian function issues, specifically polycystic ovarian syndrome (PCOS) and ovarian reserve testing, Dr. Daneshmand has presented his research findings to colleagues from Los Angeles to New York. This common condition of reproductive aged women is frequently misdiagnosed but Dr. Daneshmand has helped both PCOS and other infertility patients achieve parenthood. He also has published several papers addressing the decline in egg quality that occurs with advancing age. He and his partner Dr. Bruce Shapiro have been instrumental in the births of over 3,600 babies including some very high-profile patients.

Adept at all aspects of both male and female infertility, Dr. Daneshmand especially enjoys his interactions with patients and has earned a devoted following of patients and is also a sought-after media spokesperson.

An Assistant Professor for the University of Nevada School of Medicine, Dr. Daneshmand helps train medical students and residents. He is a frequent contributor and reviewer for professional journals such as Fertility & Sterility and Human Reproduction. Because of his research in ovarian issues, Dr. Daneshmand helped establish the city's first oocyte cryopreservation or egg freezing program that affords women facing cancer treatment the opportunity to preserve their biologic fertility for the future. The Center's success in this arena has shown great promise and the egg freezing is also available to women who would like to preserve their fertility for the future but to circumvent the decline in egg quality that occurs with advancing age.

Dr. Daneshmand is a member of the Alpha Omega Alpha honor society, and the DeCherney Society and is held in high esteem in organizations such as Society for Reproductive Technologies and American Society for Reproductive Medicine.

Dr. Daneshmand feels privileged to help couples have a family. When he is not at the office, he and his wife and daughters enjoy their involvement in civic and charitable activities as well as traveling.