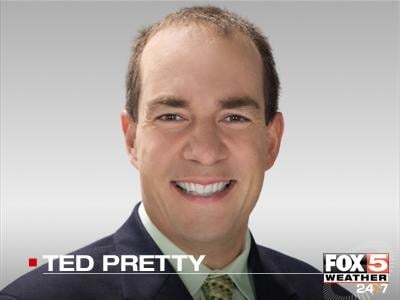 Ted Pretty
FOX5 would not be the same without morning meteorologist Ted Pretty's now famous weather segments.
Ted received a bachelor of science degree in broadcast journalism from the University of Illinois at Champaign-Urbana in 1995.
He landed his first news job at KHGI-TV in Kearney, Neb., that same year, working as both reporter and photographer.
Within six months, Ted was chosen by nearby KPVI-TV to be their very first morning show reporter and fill-in anchor. The show went to No. 1 in less than two years. Ted then returned to Illinois to work as reporter/anchor for WCIA-TV top-rated morning show.
The "nice guy" known as Ted, came to FOX5 in June of 1999.
Among Ted Pretty's career achievements is the Idaho Press Club Award for Best Feature, Best Sports Report and the Best Photography Award by the Nebraska Associated Press. He contributes his time to hosting community events and working with the D.A.R.E. program.
In his spare time, Ted enjoys spending time with wife, Heidi, and children, Jack and Kinsey.