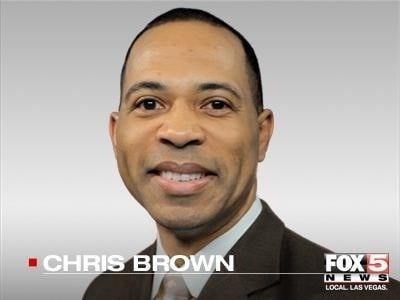 Chris Brown
"All Over Town" Chris Brown joined FOX5 in July 2008 as a morning traffic anchor after more than 17 years working as a disc jockey and radio personality.
Chris was born and raised in Memphis, Tennessee and graduated in 1992 from Columbia School of Broadcasting with a degree in radio and television broadcasting.
While working as a morning show radio personality, news, traffic and weather reporter at KJMS V101-FM radio station in Memphis, Chris was heavily involved in the community and hosted various charitable events. This is how he earned the name "All Over Town" Chris Brown.
Chris Brown is still "All Over Town" in Las Vegas as a weekday afternoon radio personality on KCEP-FM Power 88.1.
He believes that in broadcasting if you are not having fun you're doing something wrong. In his spare time Chris enjoys spending time with his wife Michelle, traveling, attending concerts and enjoy being a professional freelance disc jockey.