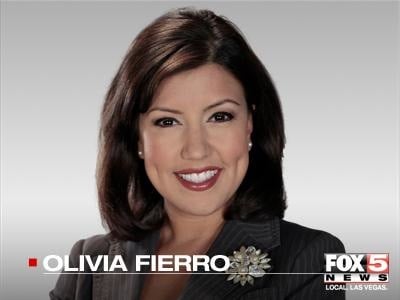 Olivia Fierro
Fierro joined FOX5 News in April 2009 from KTVK Channel 3 in Phoenix where she co-anchored "Good Morning Arizona" from 4:30 to 6 a.m. for six years. Prior to those early morning duties, she anchored "Good Day Arizona" and hosted "GMAZ Weekends." She also worked as a reporter out of the Northern Arizona Bureau in Flagstaff.
Fierro has received numerous honors for her work in Arizona, including a regional Emmy nomination for her reporting, inclusion in Phoenix Magazine's "Best of the Valley" issue, and was voted "Best Looking Newscaster" by the readers of the Phoenix area magazine, 944.
Her first on-air position was with the ABC affiliate in Amarillo, Texas, where, in two years, she moved from reporter to morning and midday anchor. She was first bitten by the broadcast journalism bug at KTTV FOX 11 in Los Angeles, when her college internship led to a full-time position as a news assistant with "Good Day LA".
Olivia graduated with dual degrees in History and Women's Studies from UCLA and studied Broadcast Journalism through UCLA's extension program as a post-graduate. She feels lucky to have the chance to be a part of people's lives and treasures the responsibility of keeping them informed and connected.
The Whittier, California native vacationed in Las Vegas growing up and says "it's a dream come true" to now be able to live here. Fierro and her husband, Tony, moved to Las Vegas with their small Bichon Frise-Poodle mix named Ro, short for Robaire.